Some of you may remember the group of Calcio Lecco supporters that came to Bath a month or two back to see a match (that was sadly postponed) and meet like-minded City faithful. Lecco are celebrating the 40th anniversary of their UEFA Anglo-Italian Cup win this year, their only major trophy I believe, and it was City they defeated in that final.
This summer the club and supporters along with the Lecco council are hosting a big day of celebration to commemorate the anniversary on Saturday June 24th, and a part of that is a match between Lecco and Bath City supporters at the Stadio Rigamonti-Ceppi in the evening in front of a good crowd.
Many of us that met the Lecco contingent on their trip to Bath are already planning to go, and are staying from the Friday before to the Monday after.
Bath City supporters are welcome to join us in Italy for what will be a fantastic occasion, if you're interested in playing a part in the match or just joining many a Stripe on a European adventure please get in touch with myself or Jon_BOA for more info.
Our plans are to fly from Stansted to Milan Bergamo before getting a train to Lecco. There are flights from Bristol too. Obviously everyone's free to arrange whatever travel/accomodation/duration you like, and we should be able to help with info if you'd prefer to do similar to the group.
Up the City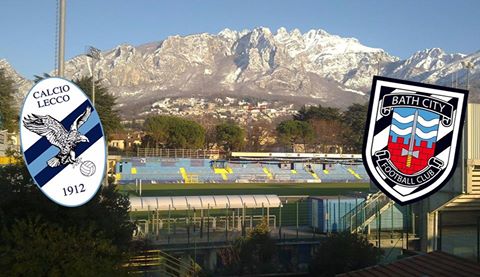 Posts

: 407


Join date

: 2014-02-20


Location

: Baff



Bloody hell, I thought we had a good view from the Popular Side.



Posts

: 1295


Join date

: 2014-02-20



Thanks for posting this, Palmer. It's great that our club will be represented at the anniversary and hopefully some more fans will be able to make the trip. As the photo suggests, it's a beautiful part of Italy on the shore of Lake Como.
I'm hoping to get some memories from a few of the City players who took part in that match to send to Lecco. Can any supporters who were there please get in touch.
Here's hoping the City fans travelling out to Italy today have a great time and in their match this weekend get revenge for the defeat in 1977!

There's a great interview on the Facebook page with City legend Paul Gover in which he shares memories of the Anglo Italian Cup and being a player in that era.
Mini bus, kindly driven by Chris Reed's dad, left Twerton at 7am this morning on route to Stansted. Think it is a carnival day in Lecco tomorrow with game at 8pm local time. Hope it all goes well but they have a similar problem to first team squad - no recognised goalkeeper so may be a few difficulties there.



Posts

: 212


Join date

: 2014-02-23



KO could be delayed as they're still doing presentations to copious players.

Beautiful weather, beautiful place. They've also unveiled a hugely impressive mural of their 1977 side. A lot of effort has been put into this and the locals seem to appreciate it.



Posts

: 1294


Join date

: 2014-02-21


Age

: 31


Location

: Defending it confidently



Junior, I assume you're providing commentary...
I think all Bath City supporters should be proud of this group who have gone out to Italy to represent the club and come away with a very good result.
They organised and paid for this themselves, congratulations to all of them and have a good night!



Posts

: 212


Join date

: 2014-02-23



comrade powell wrote:Junior, I assume you're providing commentary...
Too busy playing. I didn't go to Torhout but bet today was similarly hot...
Came from behind twice to draw 2-2. Priceless away goals.



Posts

: 1294


Join date

: 2014-02-21


Age

: 31


Location

: Defending it confidently



---
Permissions in this forum:
You
cannot
reply to topics in this forum